NEW BAD IN BOOTS COVERS
AND
MY WEBSITE INFO IS MOVING.
PLEASE RESUBSCRIBE!
Hi everyone!
I've been trying to keep up with two Twitter accounts, two Facebook pages,  two websites, and two newsletters for two years now and it's just not working. I need to consolidate for my own sanity! So I've decided to move everything (my adult and YA/New Adult romances ) under the P.T. Michelle name. I'm still going to be writing adult romance too, I'm just consolidating my Patrice Michelle website,  twitter and Facebook pages info under P.T. Michelle. I'm very active under the P.T. Michelle name, so if you follow me under that name, you'll get all my adult romance information as well as the opportunity to interact more.
IF YOU AREN'T ALREADY, PLEASE SIGN UP TO FOLLOW ME IN ANY OR ALL OF THE BELOW PLACES:
Website*:  http://www.ptmichelle.com/
Twitter : https://twitter.com/PT_Michelle
Facebook : https://www.facebook.com/PTMichelleAuthor
Newsletter: After this email, you will no longer receive newsletter information from me unless you RE-SUBSCRIBE to my NEWSLETTER here: http://eepurl.com/jriS9
NOTE: If you have GMAIL, and to make sure you continue to receive my newsletters, please left-click on this newsletter email from me , then drag that email from the Promotions tab over to the Primary tab. That should make sure you always see any future newsletters when they come from me in your gmail account.
* The P.T. Michelle website will be under construction for a bit, while I add my adult romance books' information. There are a lot of books, so it will take a little bit of time to fully integrate.
BAD IN BOOTS Series Gets All New Covers!
My BAD IN BOOTS series will be getting all new covers and a bit of re-branding, but will still have the same level of steam. As a kick off to reveal the new covers, I've expanded HARM'S HUNGER and will be releasing the expanded version soon! This new version is twice as long as the original, so I hope you enjoy it. And, yes, you should be able to download the updated version at no cost to you from the on-line store you purchased the original version from. Or you can also get HARM'S HUNGER FREE on Amazon, B&N, iTunes, Kobo, and Smashwords, but wait until you see the new cover go up. That means you'll be getting the updated version.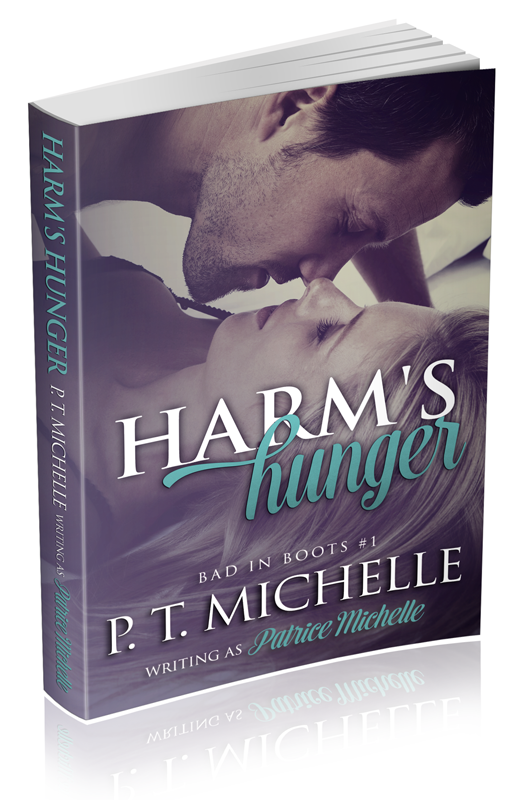 COMING SOON!
Bad in Boots
Harm's Hunger
by
Patrice Michelle
In order to meet her Great Aunt Sally's will's stipulation to "handle the sale personally," Jena Hudson visits Texas to finalize the sale of her aunt's ranch to her neighbor, Harmon Steele. What Jena didn't expect was to fall for the rugged, sexy cowboy.
Harm might find Jena to be the most sensual creature he's ever met, but he won't let her sultry body be more than a satisfying distraction. He learned a long time ago, happy-ever-afters are best left for childhood fantasies.
So, what's a girl to do when she finds out the man of her fantasies doesn't believe in a happy ending? Given the right set of circumstances, she'll create one for him.
Note: HARM'S HUNGER is a ~ 33,000 novella. This is the first story in the hot and steamy BAD IN BOOTS series.
**This book is intended for mature audiences due to strong language and sexual content.**
* * *
Also, I thought I'd share a couple of excerpts from my latest release DESTINY! You can get book one BRIGHTEST KIND OF DARKNESS FREE right now on Amazon | B&N | iTunes | Kobo | Smashwords. Ethan and Nara are forging new territory in DESTINY.
 
DESTINY ~ Excerpt #1
"Hardly," I snort over my shoulder as I move toward the massive raven. "He just allows me in his personal space. I haven't seen much of him lately. I've missed his crazy antics."
Ethan starts to follow me, but I hold my hand up. "No, stay out there for now."
When his mouth turns down, I spread my hands toward the birds. "This is what we're here for. I didn't know if they'd come. I'd hoped they would, but…"
Ethan leans against the sanctuary's doorway, shaking his head. "I don't understand, Nara. How did you get all these ravens to follow you here?"
I hold my hand out to Patch, who pecks at it. "Hey, be nice," I say softly. He dips his head and puffs up his neck feathers, making me laugh. "Show off."
As soon as I turn to address Ethan, he pushes off the doorway, alarm in his gaze. "Nara, watch out."
A flutter of black appears in my periphery right before Patch lands on my shoulder, his bird feet gripping my jacket. I smirk and fold my arms. "It's all right. He would never hurt me."
Ethan's forehead crinkles. "Ravens can be unpredictable."
"Not as much as you might think." I gesture toward Patch, who's currently swaying back and forth on my shoulder. "Think of Patch…of all those like him as an extension of you."
He crosses his arms and shakes his head. "I know I have a connection to ravens, but they're just birds."
"Oh really?" The one way I know we've connected in the past was when Ethan thought about me. I bite my lip and tell myself this is to help him remember. "Think about touching me."
A sensual smile tilts his lips. "I'd rather do that than think."
Okay, maybe this isn't the best idea, considering I'm supposed to be keeping my distance from him. Then again, it's the only one I've got. I purse my lips. "Just do it."
"Fine." His lips quirk, and as I see all kinds of sexy thoughts scrolling across his face, the birds begin to titter and hop around as if agitated, but nothing else happens.
"Concentrate." I huff, setting my hands on my hips. "Walk outside the sanctuary behind the wire."
Ethan grunts, but does as I ask. "Why am I out here?"
I nod to the fence between us. "Pretend you can see me but you're unable to reach me."
"How is this any different from reality?"
"Ethan. Now, think about what you'd do if nothing stood between us."
I ignore the scowl on his face. "Close your eyes."
As Ethan let's his eyes slowly close, I do the same.
"I don't like this."
The hurt in his voice pulls at my heart. I can tell he's talking about more than this exercise.
"Just…think about me, about us," I say. "Imagine what you'd think about if we could only talk on the phone. What would you wish for?"
"You. With nothing between us."
His wish, full of heat and want, carries on the sharp cold wind whipping through the bare trees. The longing wraps me in a layer of warmth, tugging at my heart, making my body tingle.
A sudden rush of softness blows past my cheek, whipping my hair around my face. The earthy scent of pine and wintry air fills my nose, and a dark wall of warmth blocks the afternoon sun, providing its own protection against the crisp air stinging my cheeks.
I smile when I feel Ethan's fingers softly running along my jaw.
"Is this really happening?" Ethan asks from his position on the other side of the fence. "Whatever I think, you can feel it through them?"
"Yes," I say over the swarm of ravens circling around me. Sighing, I give in to my own pent-up longing and lean slightly into the birds' wings so Ethan can feel me press against him. Here, with the wall of birds transferring our feelings while blocking Ethan's view, I take advantage of a chance to be close to him without risking my heart. "Do you feel me?" I whisper.
"Amazing," he calls over the rushing sound of bird wings, his voice full of awe. "I remember this part. Were we talking on the phone?"
"Yes," I say again, and try not to whimper when warm hands cup my face and gentle thumbs reverently trace along my cheeks. I inhale deeply and try to draw in Ethan's own unique smell. I've missed him so much.
The cyclone of circling birds pulls in closer until I can feel every part of Ethan's body pressing against mine, from chest to thigh. It's so real, I even feel his breath on my cheek, his fingers lifting my jaw.
"I miss you," I whisper just for my ears.
Ethan's lips press against mine in a soft caress, then his fingers slide along my jaw, threading into my hair. God, it's so amazing. I want it to be real.
DESTINY ~ Excerpt #2
The scrimmage ends ten minutes later. Everyone probably had homework or dinner to get to, because Lainey, Drystan, and I are the last ones to leave. I'm so beat, I don't say much while I stuff my soccer gear into my bag. Drystan and Lainey follow behind me as I push the gym doors open and walk out into the crisp night air.
"At least it quit snowing," Drystan says, glancing up at the clear sky.
I pause when I see Ethan leaning against my car. I hadn't expected him to wait for me. I look for his car but don't see it. Did he walk here?
Lainey sees my hesitation, then notices Ethan and quickly hooks her arm through Drystan's. "I'm giving you a ride home. I want to hear all about this new parkour class you've started up before you get home and fill my boyfriend's head with bone-breaking ideas."
As she steers Drystan toward her car, I mouth, "Thanks," to her, then call out, "Night, you two. See you tomorrow at school."
Once Lainey and Drystan drive off, my heart starts thumping. Ethan's expression is hidden in the shadows. I'm not sure what to say, so I delay saying anything and instead beep my car. When Ethan doesn't move to let me open my door, my heart starts to race even more.
"I don't like what's happening between us."
His words hurt because they echo my own thoughts. He's feeling the distance too.
Since I can't see his face and mine is bathed in the glow of a nearby building's neon sign, putting my emotions on full display, I shift my attention to the hood of my car. "You said you needed to train, so I'm giving you that time."
He steps close and speaks in a low rumble. "By spending it with the one guy who wants to replace me in your life?"
My gaze jerks to his. "Drystan is just a friend. At least I've taken the time to introduce him to you. I still haven't met the girl who answered my boyfriend's phone and told me he was in the shower…at ten at night!"
Ethan pales a little. "Danielle answered my phone?"
"We've already had this conversation, but apparently you haven't remembered that part yet. By the way, that came before the 'closet scene,' where you told me she was your cousin'." I don't care if I sound snarky. My nerves are coiled so tight I can't help it. Sighing, I step around him to beep my car again. "It's been a long day. I need to go." As I start to pull open my door, Ethan's hands land on the doorframe and he pushes it shut.
"This memory thing would go a lot faster if you'd stop holding back on me. I sense you're not telling me everything."
I tense at the frustration in his voice, and Ethan leans close, his hips pressing against my butt. "I'm sorry, Nara. Please, don't go." My gym bag drops to the ground as his muscular warmth cocoons my back. "It feels like you're leaving me, and I can't bear the thought. It might be slowing me down, but I'm doing everything I can to remember."
I don't want to be the reason Ethan gets hurt. Guilt makes my hands shake, so I press them to the car's window to hold them steady and bow my head. "This is just so hard. I'm trying to be understanding."
Ethan's warm hands cover mine, and he whispers in my ear, "It drives me nuts to see you with another guy, even if it's just something as simple as riding together to play soccer. I know exactly what he's thinking. I know, because I can't help but want you more when I see you all sweaty and running your heart out." He pauses to press his lips to my throat, murmuring, "Mmmm, salty and sweet."
Tilting my head, I give him access to my neck. I absorb the feel of his hard frame behind me, holding me up and supporting me, even for a few seconds. This isn't full on intimacy. At least I tell myself that as my body yields to his.
"I miss touching you so much." His lips slide up my throat and his fingers fold tight around mine, locking our left hands against the cold glass. I swallow hard, my heart hammering when his other hand falls to my hip to press me closer.
Running hard has intensified Ethan's appealing smell. Or maybe it's hearing him say how much it bothers him to see me with someone else that amps my attraction. All I know is…I don't notice the cold air or the thin layer of snow beneath our feet. His heat and intensity seduce me, making me want him so much my insides quiver and my nerves tingle with excitement.
I press my free hand to his jaw, enjoying the feel of his five o'clock shadow against my fingers. Ethan whispers my name and slides his hand up my shirt. My muscles flex as his fingertips trace slowly along my belly until they come to rest over my thrumming heart, and his thumb slides under my bra clasp. Skin to skin. Warmth melding into warmth. "My heart," he rasps before kissing my jaw and pressing his fingers closer, locking me against him.
DESTINY
Purchase Links
Amazon | B&N | iTunes | Kobo | Smashwords

Other books in the BRIGHTEST KIND OF DARKNESS series: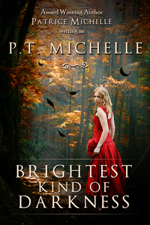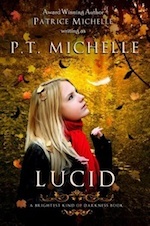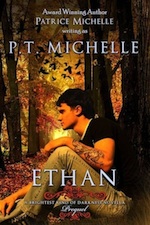 * BRIGHTEST KIND OF DARKNESS, Book 1 ~ Currently FREE on Amazon | B&N | iTunes | Kobo | Smashwords
* ETHAN, Prequel (Written in Ethan's point-of-view and is best read after Brightest Kind of Darkness) ~ Amazon | B&N | iTunes | Kobo | Smashwords
* LUCID, Book 2 ~ Amazon | Barnes and Noble | iTunes | Smashwords
* DESTINY, Book 3 ~ Amazon | B&N | iTunes | Kobo | Smashwords
* TBA, Book 4 ~ Coming in 2014
I hope you'll resign up to follow me on  my P.T. Michelle website, FB, twitter and newsletter so you don't miss out on any new releases I have.
Thank you so much for your wonderful support!
Patrice